If you are not familiar with these authors, then this anthology is a fabulous way to have a little nosy at what they have to offer, it's an excellent read and one certainly not to be missed!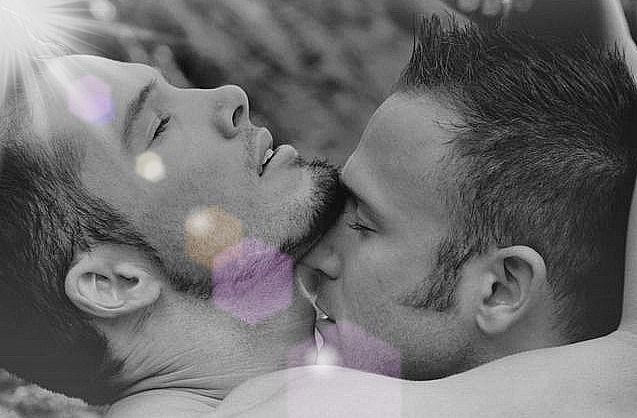 I am a sucker for love stories and one that develops from a summer romance… well, that just about melts my heart. I am not however usually a fan of anthologies, my own experience of them thus far has been a couple of great stories with others seemingly thrown is as padding! NOT SO with
Summer Lovin,
firstly, we have four of my FAVOURITE authors and one I will certainly be getting to know better! I loved ALL of the stories in this book, a great mix of humour, fun, angst, heartache, plenty of hot smexy lovin' and all with a HEA… I couldn't be happier! I laughed out loud… a lot! and cried a few tears and enjoyed every minute.
Summer Hire, by Chrissy Munder ~ 4 Stars
Jim is a porn loving, accident prone unemployed web designer who is persuaded by his friend, to take a summer job, only now he can't seem to escape his favourite porn movie playing on a loop in his head, starring the walking wet dream that is Aaron Torres, tattooed bad boy turned good and also happens to be his boss!
For the most part, this short is a prelude to the romance, Chrissy Munder gives us an insight into the minds of these two characters first and what makes them tick, and as we get both characters POV's we see Aarons conflicted emotions and honourable intentions along with Jim's hurt at Aaron's seeming rejection of his more than obvious flirtation… all before they finally get their act together, which comes at the end of a summer full of mutual sizzling sexual chemistry and a whole heap of emotional and sexual frustration!
I have to say the writing of that particular scene was just palpable and the anticipation and intensity of the moment was totally worth the build up! This may be my first foray into the world of Chrissy Munder, but I will definitely be keeping an eye out for more!
Lost & Found on Lindisfarne, by JL Merrow ~ 4 Stars
A wink from an axe wielding Viking Berserker turns into a moment of passion beneath the stars! Two very unlikely characters, yet perfect together.
JL Merrow through her fabulous writing brings us characters full of life and personality and Chris is a typical example. I really, really liked him… he is funny and honest with no side to him at all, as a single parent he is committed to his daughter at the expense of a social life. Chris is also lonely and lacks self confidence, seeing himself as a boring geek, yet Ian see's so much more and despite Chris's usual sensible and safe attitude, he takes a chance on love and follows his heart.
JL Merrow must have the most amazing sense of humour, as it comes across in her writing as effortless, I was laughing out loud with this tale… Chris was hilarious, especially with the seal incident that I had to read three times it tickled me so much. I loved the whole Viking re-enactment and the sense of family he found within the group, Kelis the daughter was adorable and the sex under the stars was hot!
Salt 'n' Vinegar, by Clare London ~ 4.5 Stars
Joe is a university student living in Brighton and loving his life along with the casual hook ups that come with the club scene and summer season in a seaside town… that is until he meets the haunted eyes of Steven over the counter of the chip shop he works in.
This story is an emotional one and both boys just about broke my heart… we see this story unfold from Joe's POV with his vulnerability laid bare, opening his heart rather than his zipper for the first time with Steven… a boy who see's himself as nothing more than damaged goods, broken by a past he is unable to escape, finding his only happiness in the arms of Joe.
Clare London cleverly blends a mix of humour and deep seated sadness into this excellent tale… she is a master at this, lulling me into a false sense of security, stabbing me in the heart, letting me bleed a little before performing cardiac surgery to repair the damage… taking us outside the box of normality, where perhaps our own rules and perception of life don't apply… I loved this and there is a HEA!!!
Werewolves of Venice Beach, by Lou Harper ~ 4 Stars
First impressions count and a naked Slade glimpsed over Bryan' morning cereal in the neighbours garden is what did it for him. Lou Harper brings us a bad boy rocker with tattoos and a studious nerd, a loner who although not good with people, is great with dogs!
This is a love story, which is more a voyage of discovery for Bryan with healthy dose of angst and humour, there are some great characters, especially the larger than life Lucrezia
.
Slade lives up to the stereo typical bad boy rocker image and even though we don't get to see what is going on in his head it's obvious there is more to him than meets the eye, and for all his confidence, he is really an insecure and vulnerable man who has no idea how to deal with what he is feeling… I loved Bryan as a character, all his life he had been a shy boy, comfortable with his nose in a book, petrified of crowds and with no social life whatsoever. In this short, we see him come out of his shell, gain in confidence and start to enjoy being young and having fun… these two may seem an unlikely couple but they compliment each other and bring out a side to their nature that was all new to both of them… yes, there is a little misunderstanding along the way, which of course adds to the excitement and the make up sex is always Hot!
By Quarry Lake, by Josephine Myles ~ 5 Stars
This is just a beautiful story of love between a gentle giant, Rob, who made my heart melt and his a pierced and confident best friend Tommy, who had spurned a chaste kiss from Rob three years earlier when he left for college and the bright lights of London. At the time Tommy had been a confused 18 year old, now he knows better, he just needs to convince the love of his life. For Rob, Tommy was and is his first and only love.
The writing as always with Jo is just fabulous, I didn't want this book to end, the scenes were beautifully described and the emotional connection between these two was unmistakable. Tommy's full confession on his return home from London, and his honesty with the gentle and loving man who had been his best friend was refreshing, and I don't think my heart could have taken the hurt on Robs part if he had dragged it out.. as it was I ended up crying anyway, but they were happy tears!