Impeccable writing from the talented Josephine Myles. This book is Excellent… a journey of discovery for an endearing smartarse sub and an irresistible overbearing Dom… loved it!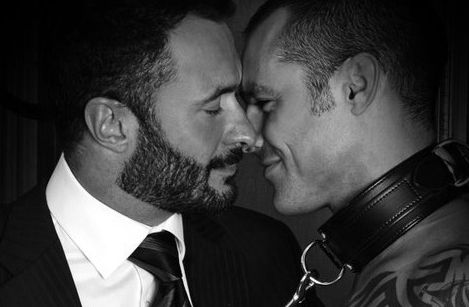 When you start a book and you get treated to an image of the Dom having George Clooney good looks, wears leather, has tattoos and rides a Harley… Yowza!! you know you are in for a treat!! The tale unfolds from both characters POV, and Ms Myles totally gave us two characters that were both believable and with very distinct personalities. The writing was excellent and had me engrossed from the beginning, being British I so got Cosmo's snarky sense of humour and he had me laughing on more than one occasion, in fact he just had me smiling all the way through I just loved him so much. Alasdair is a more intense character, stoically guarded and aloof, the complete opposite end of the spectrum from Cosmo, and his development was more of a slow process.
Initially, I wasn't feeling Alasdair as the all powerful Dom… mainly because he had little or no control over our wayward wannabe sub. But as the relationship develops and barriers are slowly broken down their understanding of each other grows and the bond between them is undeniable. Together they were beautifully intense and erotically sensual and their love was slowly nurtured through honesty and above all trust.

"Cosmo? Do you want me to tie you up later?"

"Is that a promise?"

"Which would you like it to be?"

"Uh, I'm not sure. Would it be uncomfortable?"

"A little. You remember we discussed shibari?"

"Some kind of raw-fish thing, wasn't it?"

Infuriating boy.
Alasdair is a self made man in the less than salubrious business of Sanitary Services, his business consumes his life and with no friends as such but rather acquaintances with whom he networks for business purposes, he is a lonely man with a deep scar on his heart that prevents him from wanting, or even having the inclination to share his life with a partner. So when this cocky arrogant little smartarse turns up for an interview with obviously no interest or inclination to even want the job, and is more interested in openly flirting with him, something sparks his interest, bringing his Dom to life and he see's Cosmo as a challenge and the mere thought of it was warming parts of him that had been cold and indifferent for years.
Cosmo… how could you possibly not fall in love with him, he has a sharp mind and quick wit, full of attitude and confidence but just adorable. He is a guitarist and lead singer in a band, it's going nowhere, but for Cosmo music is his life and his dream, working as a sanitary disposal operative was not! But, he does have plenty of practice at
Screwing the System
, turning up for the required interviews, flunking them, yet still able to claim his dole, he is a benefit scrounger that doesn't want a full time job, it would interfere too much with his creative spirit… and after all he was going to make it big one day!?!
Only Cosmo has met his match in Alasdair, and every fibre of his being was enthralled, he is attracted to the aura of power surrounding his
Boss Man
and his body is tingling to respond to his commands yet his head is at the same time rebelling at the unknown, and a part of him hadn't quite bought into the idea of this D/s situation that he had no experience with. But he is a young man dripping with testosterone and the arousal and curiosity that had been ignited by Alasdair won over and he wanted in, well, his dick wanted in… his mind was still debating, could he really put away his stubborn pride and subjugate himself?

Alasdair tasted like one of those premium lagers you get in fancy, expensive bottles, and other guys were like the insipid, watery stuff that comes in a multi-pack deal.
Alistair is arrogant, controlling and organised, he wants to take charge of Cosmo, all his instincts were crying out to cherish
his boy
, to keep him safe and protect him but Cosmo finds orders frustrating, it's not in his nature to take orders, Cosmo would rather rebel against authority than follow rules and guidelines. Initially I think Alasdair wanted to tame the wild animal in Cosmo, but that was never going to happen! I could totally see where he was coming from, he wanted a better life for him and instil some self respect but Cosmo is not going to respond to controlling without compassion and his honesty that knows no filter tells it straight and isn't the least bit intimidated.

"And I've got you a present to say sorry for being an arrogant shit"

"What, yesterday? Or in general?"

"Brat."



These two characters through out hint at a painful past giving them both reasons to be weary of relationships, and their journey of understanding and compromise brings them to a place where they learn to share their feelings and put their trust in one another, but can Alasdair learn not to suffocate
his boy's
personality and can Cosmo respect and trust his
Boss Man
in the bedroom?
For me, the last half of this book came to life and had me turning the pages like nobody's business, I just couldn't get enough. It was compelling and intense and the sex was sizzling… Alistair proved to be the tummy tingling, drop to your knees all powerful Dom I so love and I need to mention Cosmo's Nan (Sylvia) as she actually reminds me of my own mother, eccentric and a hoarder but it was more the fierce pride and love that Cosmo had for the woman that had raised him which touched my heart and this comment on their visit… classic if you are a Brit!

"I'll go get the kettle on" Sylvia was saying. "I've got Mr. Kipling's Fondant Fancies"
So Josephine Myles… you are now without a doubt an auto buy for me, I love your sense of humour, you certainly know how to weave a wonderful tale and I hope your muse continues to be rebellious… and the thought of you shaking a stick at him… well, that just makes me smile. A fabulous book, highly recommended.
For more reviews, please check out our blog...
Sinfully Sexy Book Reviews
you can now also find us on...
Facebook