R.J. Scott takes us on another fabulous visit to the Town of Ellery and Daniel Skylar was all I was hoping he would be... definitely no skimping on the hotness factor there!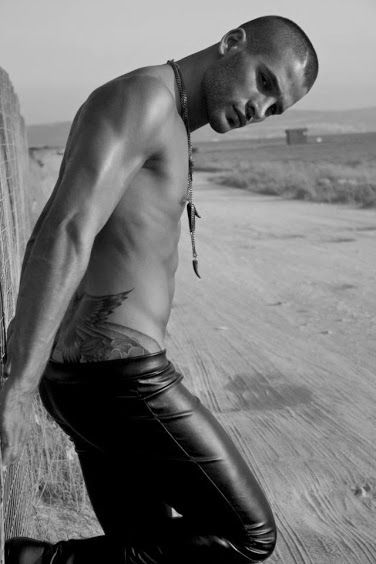 After reading
The Fireman
and The Cop
and meeting Daniel Skylar, the dark and brooding ex soldier who rides a motorbike, has a buzz cut and tattoos and is full of confidence and attitude… Hell Yes!! I wanted more… and this was another great novella in the Ellery Mountain series, Loved it! R.J. Scott certainly gets us involved and invested in the characters of the Town of Ellery and I am loving this Friday night Club which I can see expanding over the six books so far planned for the series. This book was more about the emotional issue's behind the two damaged MC's where the last one was more about the action, so each book it seems is not just more of the same but is bringing something different.
When Daniel had returned from Afghanistan, battle weary with both physical and emotional scars, with recurring nightmares keeping him awake… he turns to his school friends Finn and Kieran for support, now every Friday night they meet, mainly to chat and drink beer. In the last book we met Max the Fireman, who is now Finns boyfriend and an added member of the Friday night club!
Luke Fitzgerald comes with his own scars… at the age of 18 he left Ellery and never returned, glad to escape the drunken abusive Father who had made his life a misery after his Mother had left and subsequently died. Now his Father was dead, murdered in the last book for just being in the wrong place at the wrong time and Luke returns to Ellery, a place he never wanted to see again but he needs to settle the estate, post hast and move one.
Luke is already in a bad place by the time he gets to Ellery, he has just lost his teaching job and broken up with his boyfriend of six years who had cheated on him ,and years of therapy had failed to cure him of his lack of self confidence and a whole heap of anxiety issues and being back in Ellery was now only exasperating his paranoia.
When Daniel and Luke meet, Luke is intimidated by his confidence and composure, Daniel seems to be everything he is not and Luke is still angry at the town and especially Daniels Mother for not seeing the abuse and the pain that was being inflicted on him as a child, he is hurt that no one helped him and he takes his frustrations out on Daniel.
I have to say, I love Daniel he is strong and fiercely protective of his friends and mother, yet despite that he recognises in Luke what he has seen so many times in others that have been affected by PTSD and instead of his Soldier stepping in we see the compassionate empathy in the man that has an overwhelming need to protect, he sees that behind the angry facade is the lost boy who really needs comfort and understanding and Luke can feel that emanating from Daniel, yet he is unable to let go of the painful memories that the Town still hold for him. We slowly see Luke let down the guard he has on his emotions and for the first time he is happy and at ease with himself and Daniels friends, and now, they have two weeks together that neither wants to come to and end.
At first I found Luke very weak and insecure, he kept turning to his ex lover for support which was irritating the hell out of me, but really, Luke was alone in the world and despite the fact that Zach had cheated on him when it came down to the basics they had really just been friends who should never have taken the step to lovers… and I grew to love Zach, even though it was only ever in telephone conversations he was both funny and only too aware of Luke's insecurities. He is definitely a character I would like to re-visit.
I loved this second instalment to the series and I am thoroughly enjoying my visits to Ellery… as we move along we get to know more about the town and the people who live there and I am thrilled that there will now be six books in the series. Next up is Kieran the Carpenter and so far he seems like an adorable character and a bit of a joker and I can't wait.
Ellery Mountain Series
#1 - The Fireman & The Cop
#2 - The Teacher & The Soldier
#3 - The Carpenter & The Actor
#4 - The Doctor & The Bad Boy
#5 - The Writer & The Paramedic
#6 - The Barman & The SEAL
If you pre-order the books from
Total-E-Bound
you can download and read a month before the official release.
For more reviews, please check out Sinfully Sexy Book Reviews and you can also find us on Facebook