If this were a Movie, it would be perfectly placed in the Chick Flick category...It is a story of Love ~ Found ~ Lost ~ Reunited. With a beautiful, emotional and intense road travelled to the final credits... Loved it!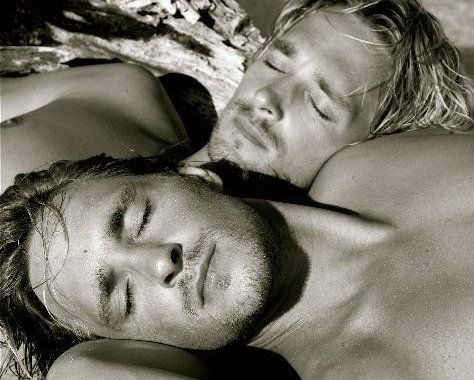 Set on the Island of Mirabella - a visual feast of sun drenched sands, clear blue water and warm nights partying on the beach... where a romance blossoms between two young men from opposite ends of the Islands social hierarchy, who are heady on the passions of youth and lost to the freedom of responsibility... that can only come from Island life.
Alex lives in a beach shack with his brother Will, he has no aspirations for the future. He works hard and plays harder... hiding his sexuallity behind the show of an intimate relationship with Holly, when in fact, they are the closest of best friends - without the benefits!
When Matt starts work at Franks Cafe, Alex is bemused! Why would a spoiled rich kid who was outrageously wealthy and drives a fancy car want to work at a beach cafe as a line cook? His life was mapped out for him before he was born... to take over and run the family business! Hmm...
Despite being poles apart in their social standings, Alex has had a crush on Matt for years... Matt confused about his own sexuality is affected by Alex and with his body reacting to the forbidden, Matt is curious to what those feelings are and where they might lead!
Matt and Alex become like a couple of love struck teenagers, flexing their muscles, intimate glances and desperate to spend time in each others company and of course, the sexual tension between them was palpable... all stomach flips and butterflies!
As a love story, this is most definitely character driven and Kelly Moon has done a great job in endearing those characters to my heart. Alex is adorable, totally laid back and funny. He is a man who doesn't take life seriously and enjoys it to the max. You would think with Matt being the total opposite that their relationship would be doomed, or perhaps an escape from reality for our arrogant and cocky rich boy who is used to getting what he wants. However Alex is So. Not. Impressed by money or social standing and the effect on Matt is one of comfort, almost a kind of sanctuary from the life that awaits him and the controlling bitch of a mother that likes to stick her nose in... where it is most definitely not wanted!
For me, the love scenes... yep, no casual sex here, it was sensual and erotic... and yes, my head is back in movie mode! Ms. Moon's great descriptives had me watching with my tongue hanging out! This was more than sex, it was soul deep, a connection on another level that neither of them had been to before. Their loving was intense... an emotional journey to that moment of ecstasy, absorbed in each others pleasure and drowning in the emotion... their love was profound - wanting to hold onto it forever, knowing that it would eventually come to an end.
This is the moment you get out the tissues and a box of chocolates and wrap yourself in a comforter and...ahhh bless!
As with all good Chick Flicks, you get to the end of this book with a warm and fuzzy feeling. This is an easy and enjoyable read that I would highly recommend for those days when you just want something nice that will make you smile, and this certainly did it for me.
For more reviews please visit...
Sinfully Sexy Book Reviews